1.2 Mentorship and Learning
Learning about Farming
"For new farmers, invite the Elders out, come have tea and a little snack, and just sit and talk with them about how they used to do things, and get people together. Listening to my mom talk about how things were…tea was always on the wood stove, and sacks of mysterious medicines always nearby." – Paula Cranmer-Underhill (Spapium Farm)
There are so many ways to learn, how do you learn best?
You can learn about farming by reading books (and this guide!), watching videos, reading websites, talking to people, visiting farms, but most of all, try farming! Talk to people who are farming in your area, and volunteer with them for a week (or more), and get a sense of what the day to day tasks are. Many people work on other farms for a few years to learn before going out on their own, while others get university certificates, and other just start! You will find your own path.
"Farming is all about hands on; you can learn a lot on YouTube or from a book, but make sure you get hands on." – Fred Fortier (Uncle Freddy's Hothouse)
Farming is all about constant learning, remember that when someone has farmed for 30 years, they have only farmed 30 times; it takes a long time to try things out when it only takes one full year do it! The more you can learn from others before you start your own operation, the further along you will be.
"Ask for help from your family and friends, and cook them dinner! Have your farm be a centre of activity, you hear stories from other people who farmed." – Paula Cranmer-Underhill (Spapium Farm)
Make Connections
You will need a couple of people that you can call to help when you need it (make sure to repay the favor!). When your onions have all died and you have no idea why, or your apples are full of worms, or the fall rye just isn't growing well, you will need someone (or different people) to call.
"There is no one solution for everything, and no advice that will solve all your problems on the farm. You have to do the best you can and do what works best for you, but any advice given will always go a long way towards your success." – George Casimir (Farm N Stuff)
Many farmers suggested creating a network of other farmers, especially in nearby growing areas like Vernon, Kelowna, or Enderby; farmers will share information when you ask them questions. Keep in mind that things that work for them, might not work on your farm, so having a larger network is important. You are limited when you only talk to the few growers close to you.
"Mentors are good, but I think the more information you ask of people (if you find someone who is willing to share things with you), the better… Find more than one mentor because different people find different things that work, and they don't always work for you. For example, I can't grow root crops because the bugs always get them. One farmer in Armstrong said, "Oh I plant twice as many, bugs can't eat that many." But at our farm, they do!" – Daniela Basile (SSOL Gardens)
Attending events like Seedy Saturdays and conferences (especially the COABC and BCAFM Conferences) when they are in your area, is important! You will meet people, and you will learn a lot from them when you spend the weekend at the conference.
You can also connect with your local industry associations. Go to farmers' institute, join forage council, or the BC Agriculture Council. The closest one to Kamloops is Chase Farmer's Institute.
"Everyone knows something, and everyone has a friend who knows something, so the synergy you get is really good." – Paula Cranmer-Underhill (Spapium Farm)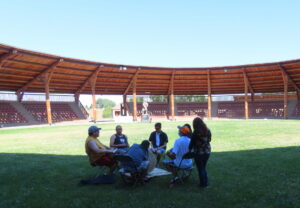 You are always learning
One of the wonderful (and frustrating!) things about farming is that you are always learning, whether you plan to or not! There might be an unexpected heat wave, a new pest eating your crops, the chickens are not growing as quickly as usual, and you will have to find a solution. You can plan as much as you can, but flexibility is important in this industry.
"You get prepared, and you try that crop (or whatever it is) and get it working; don't always plan that it's going to work. Then the following year you'll really figure it out, and by your third year it's a piece of cake. Once you got things going well, see if there is something else you can add to your repertoire; what else do you want to learn about? You are always learning." – Daniela Basile (SSOL Gardens)
Activities: How do I learn?
How do you learn best? Think about what information you will need in the first few years, and where you will find it.
What past experience do you have that you learned from?
Who can you reach out to with questions?
Are there other people that you want to learn from?
What areas do you still need to learn more about?
How will you find that knowledge?
Do you like books, websites, YouTube videos, online courses, post-secondary programs, or from other people?
TRU Sustainable Ranching Field Trip Schedule 2022
One great way to visit lots of other local farms is to attend the TRU Sustainable Ranching field trips. Visit their website for information on how to get in touch with them and ask about attending the free field trips.