Selling at the Farmers' Market
"Make your stall look like how you feel." – Paula Cranmer-Underhill (Spapium Farm)
"Always think about what produce you can give away, and get people to try new crops. We call that potlatching with our produce." Paula Cranmer-Underhill (Spapium Farm)
Factors to consider:
The BC Farmers' Market Nutrition Coupon Program has coupons in increments of $3; one idea is to bunch things in bunches in $3 increments to make ti easier for customers to use their coupons.
Customer service – Always be engaged with your customers, greet everyone who walks by, and try to remember names and things about people. Also try to keep your phone away and stay standing as much as possible. You want everyone who comes to your table to leave feeling better than when they came. A little goes a long way!
Display – Have an appealing farm sign, clear prices, clean scale, a cashbox with sufficient change, clean tablecloths, and take advantage of seasonal decor (e.g. corn stalks in the Fall). Have big baskets or nice boxes to display your produce in, or even flowers on the table. Your reputation alone won't sell the products!
Distance from your farm – Consider how far the market is from your farm, the cost to get there, and how much produce you can actually sell there.
Packaging – Simplicity goes a long way. Consider how each product will be sold, either by weight, or as units (e.g. selling carrots at $3/lb or in $3 bunches at 1lb). Certain crops might sell better if set out in boxes of 10lb (e.g. pickling cucumbers). If bunching/prepackaging, pack vegetables by similar size for ease of cooking, and always include a minimum of 3-4 vegetables (e.g. carrots or onions). As crops grow larger, increase the price/weight of bunched products. For large crops like pumpkins, lower the weight price so that the final vegetable isn't too expensive.
Produce – Your product should be pristine, clean, visually appealing, and arrange crops of alternating colors on the table. Keep produce out of the sun as much as possible; keep your produce in the shade, and have ice or coolers to store excess produce under the tables or nearby.
Product knowledge – Consider the end user. When growing new vegetables, always eat them yourself first so you know what they taste like and have some recipe ideas to inspire customers for each item. For example, when growing several varieties of potatoes, ask customers what they are going to use them for so you can direct them to the best potato for their recipe.
Shade – Bring your own tents, also have cloths to attach on the side of the tents for more shade. Store excess produce in the bins under the tables or in the shade.
Signage – Have nice sign with your farm name, address, and any unique growing practices (e.g. organic or regenerative) on it, and have clear prices on each item.
"It's important to hold your culture high. Often people don't mind spending more money to support an Indigenous artist or grower. Personalize your table with tablecloths or blankets from your Nation. If you can, sell jewelry or art from Elders at your table." – Paula Cranmer-Underhill (Spapium Farm)
Selling through a Community Supported Agriculture (CSA)/Good Food Box (GFB)
"We stopped doing deliveries far away because produce wouldn't look good by the time it arrived, if it wasn't stored in a cooler. Then went to people having to come to the farm to picking up their box." – Paula Cranmer-Underhill (Spapium Farm)
Ensure there is enough crop variety throughout the year to supply weekly boxes.
A GFB is a good way to access Elders and others who don't go out to the market, and most First Nation communities have a food delivery service.
When planning deliveries, so much of it is about timing; people do not like wilted produce, so crops need to be kept cool. Store the boxes in the fridge as long as possible, then do deliveries early in the morning, and store boxes in coolers in the delivery vehicle.
When starting out a CSA program, you can do a market survey to find out who might be interested on your website, and what they would like to order, frequency of deliveries, and any other products that might be included (e.g. recipes or products from other farms). Then you can connect with the people who said they were interested to ask for orders.
A box system needs to have a predictable schedule that boxes are dropped off at homes, or pick ups from the farm are scheduled. Be clear with customers what happens when they don't pick up their box (will you keep it for 24 hours?). Encourage them to have someone else pick it up for them if they are not able to.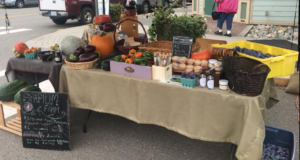 Local Farmers' Markets