Crop Selection
"When choosing your crops, figure out what your five main crops are going to be. Don't start your farm with 15 varieties of peppers, try a couple and see what grows best. Grow the staple crops, and a few specialty crops, and then reflect on what grew well and what sells. Staples include potatoes, carrots, legumes (peas and beans). What is going to grow well on my farm? What is the labour needed for each crop?" – Dieter Dudy (Thistle Farm)
When choosing your crops:
What are its soil and water requirements?
Where are you going to grow it?
How often does it need to be picked to keep growing well?
How much labour does it need?
How will I store it until it sells? How long does it take before it spoils?
How/where will I sell it? Does the price and volume make it worth it? How much money am I going to make?
"Strawberries, garlic, raspberries, carrots, tomatoes are my main crops. I cannot be a monoculture farmer, you need some crop diversity, and think about what you want to sell. There might be some specialty produce that you sell for specific customers, like sprouts, ginger, or greens. Think about your customers and what their needs are." – Fred Fortier (Uncle Freddy's Hothouse)
Labor-intensive crops (these crops have high nutrient needs, do not store well, need to be harvested continuously to ensure high production):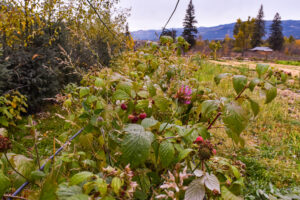 Berries (Strawberries, Raspberries, etc)
Cucumbers, pickling
Cucumbers, large
Green beans
Peas
Summer squash
Tomatoes, cherry
Tomatoes, large
Lower maintenance crops (these crops have lower nutrient needs, store well, can be harvested multiple times or once and stored well):
Beets
Brassicas: Broccoli, kale, cauliflower, collard greens, cabbage
Carrots
Garlic
Potatoes
Winter squash
Market Garden Calendar
This calendar was informed by Dieter Dudy, Thistle Farm (zone 5), Fred Fortier, Uncle Freddy's Hothouse (zone 5b) and Paula Cranmer-Underhill, Spapium Farm (zone 5).
For a sample crop planning calendar, visit this link.
January:
Map the previous year in the fields – What worked? What didn't? Why? If something doesn't grow or sell well, plant it differently or don't grow it.
Create a plan for the coming year of where everything will grow in the field, and plan your crop rotation.
Create an inventory of all of the seeds from the year(s) before.
Record the weight of the seeds you applied for the length of the row, this will help with seed ordering for future years.
With your seed catalogs, write down everything you want to order. Then refer to your existing seed inventory, and update the seed order with what you still need to order.
Place your seed order by January 31.


Seed order at Thistle Farm

Source your seeds:

Local seed producers
West Coast Seeds (BC)
BC ECO Seed Co-op (BC)
Pacific Northwest Seeds (Vernon, BC)
William Dam Seeds (Ontario)
Baker Creek Seeds (USA) – Heirloom
February:
Clean and prepare the space where the seeds will be started (e.g. in the greenhouses).
Order seeding soil, pots, manure, etc.
Make any repairs to infrastructure (weather permitting)
March:
As a benchmark, it is about six hours a day of work for 30 days to grow enough seedlings for five acres.
Start seeding:

Onions, peppers (March 1)
Herbs
Tomatoes (mid-March)

Get hoophouses ready to start planting in (where you will plant directly in the ground)
Ways to plant your seeds:

Soil blocks from Johnny's Seeds or Lee Valley, 50 blocks per tray
Peat pots
In germination box (heat pad, steam) to keep things warmer
48-cell trays, then transplanted to larger 3″ pots

Greenhouses overheat easily, so make sure that soil stays moist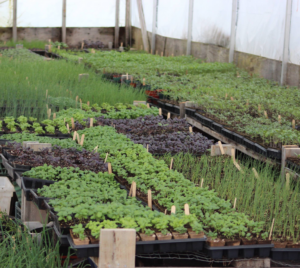 April:
Plant in hoophouses (summer squash, carrots, beets, greens) once ambient temperature is at least 10C
In fields, plant potatoes in the fields (mid-April)
In fields, plant carrots, beets, radishes, kale, spinach, chard (3rd-4th week of April)
May:
Direct sowing and planting seedlings outside in the fields
All of the transplants planted in the fields by May 31
Sell excess transplants
Monitor your irrigation and fencing lines
June:
Harvest raspberries and strawberries
Every two weeks, plant greens, legumes (peas/beans), and some root vegetables
Weed, general plant maintenance
Monitor your irrigation and fencing lines
July:
Harvest raspberries and strawberries
Every two weeks, plant greens, legumes (peas/beans), and some root vegetables
As you harvest a crop, plant a new crop – e.g. when harvesting radishes, add compost or soil amendment, then a few days later plant the next crop
Harvest garlic, plant fall rye in its place, and mulch
Monitor your irrigation and fencing lines
August:
Harvest
Plant any Fall greens or Fall harvest crops, in the field or where you have row covers
Monitor your irrigation and fencing lines
September:
October:
Plant garlic
Clear fields of weeds and crops (do before -10C)
Cover with cover crop (e.g. fall rye)
November:
Clear fields of weeds and crops (do before -10C) and mulch to cover the soil
December:
Paperwork
Maintenance of machinery
Key Resources
Recommended Books
The Four Season Farm and The Winter Harvest Handbook by Eliot Coleman
The Market Gardener by Jean-Martin Fortier
The Lean Farm by Ben Hartman
Sustainable Market Farming:

Intensive Vegetable Production on a Few Acres

by Pam Dawling